27 July 2023
Best beaches in the North West & Yorkshire
Glorious great British beaches..
The high summer months and school holidays are perfect times to visit the beach, and with miles of glorious British coastline within easy reach of our developments in Cheshire and Yorkshire there's never been a better time to plan a trip to the seaside.
From sandy beaches to steep cliffsides and rocky inlets, remote islands, beautiful bays and dramatic headland with winding coastal paths, the shoreline around the North West, North Wales and Yorkshire has something for everyone of all ages.
A trip to the beach is good for the soul.  The sound of the waves, the salty air and wide open space is both relaxing and invigorating at the same time.  Perfect for couples taking a walk, families on a day out, dog walkers and adventurers, they are wonderful destinations all year round and even better when bathed in sunshine during the summer months.
Published just recently, the 15th edition of The Times and Sunday Times Best UK Beaches highlights a number of the best coastal locations around three hours or less from Manchester.  These include Formby in Merseyside, Llanbedrog on the Llyn Peninsula and Whitby and Filey in Yorkshire.
We've added to their annual round-up with a number of our personal favourites to provide the ultimate 'must visit' list of charming coastal locations and seaside towns well worth a visit this summer.  Grab your picnic blankets, buckets and spades and SPF and enjoy a day at the beach; ice cream and fish and chips not compulsory but highly recommended!
Formby Beach, Merseyside
Protected by the National Trust, Formby's famous pine forest and sand dunes are a natural coastal haven for wildlife and people.  With its large car park, dedicated picnic areas and clearly waymarked paths to the beach, dunes and woods, Formby Beach is incredibly popular offing excellent views across the Irish Sea.  Don't miss the Red Squirrel Reserve, Formby Dunes and Devil's Hole.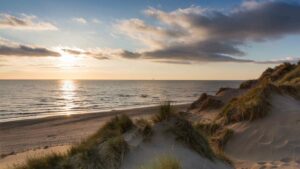 Crosby Beach, Sefton
An idyllic start to mile upon mile of beautiful coastline in Sefton, Crosby Beach is known for fine sunsets and uninterrupted views. Drawing visitors from all over the country is the world famous 'Another Place' installation by artist Antony Gormley; a collection of 100 cast-iron figures that stretch along the coastline and out to sea. Soak up the seaside experience with award winning fresh fish and chips from The Good Catch in Crosby Village.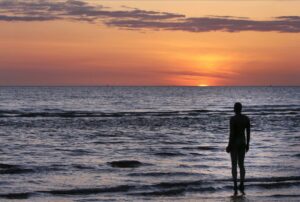 Ainsdale Beach, Southport
Recognised as one of the best beaches in the area for extreme kite surfing, kite buggies and landboards, the Blue Flag Ainsdale Beach has a refreshing onshore wind and among the highest standards of beach management in the UK.  Close to Ainsdale Village with great shopping and restaurants, the beach is easy to access – simply drive right up and park by the coastal path.  Visit Ainsdale Discovery Centre, which is great for the kids, then treat yourself to a delicious dessert from family-run emporium The Milk Room in Southport.
St Annes, Fylde
Famous for its pastel hued beach huts and traditional miniature train, the seafront at St Annes not only offers miles of sandy beach but also a promenade, tended gardens and a pretty Pier. A fantastic day out for all the family, the Victorian seaside town boasts all the expected attractions including arcades, souvenirs, ice cream parlours and fish and chip shops.  Don't miss the enormous waterfall in the promenade gardens.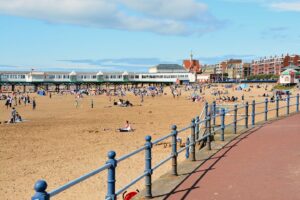 Llanbedrog, Gwynned
A round-up of beaches close to the North West wouldn't be complete without mention of the stunning beaches of North Wales. Llandbedrog Beach close to Gwynned on the Llyn Peninsula is a sheltered sandy beach with an incredibly long row of bright beach huts overlooking the waters of Cardigan Bay.  Popular with day trippers, dog walkers and holidaymakers of all ages, the beach is a must see when in the area.  Don't forget to take a photo in front of the distinctive multi-coloured huts.
Llanddwyn Bay, Angelsey
Renowned as one of the finest beaches in Britain, Llanddwyn has impressive sand dunes and is very popular with families.  A path leads through grassy hills from the sandy, safe beach to the nature reserve of Llanddwyn Island and the nearby forest which has a superb network of footpaths for walking and further exploring. From the beach, it is possible to see the peaks of Snowdonia National Park, Caernarfon and the Llyn Peninsula.  Just a short walk away is the historical site of Ynys Llanddwyn which is well worth a visit.  This is a great beach on which to enjoy some exhilarating watersports including windsurfing and kitsurfing.
Whitby Beach, Whitby
Famous for its connections to Dracula and the stunning yet imposing remains of Whitby Abbey, Whitby is also famous for its beach and has become one of the most visited seaside towns in the UK.  After a day on the beach, enjoy the very best fish and chips from long established Magpie Café or Papas Fish and Chips and climb the 199 steps for incredible views of the town centre, promenade and beachfront.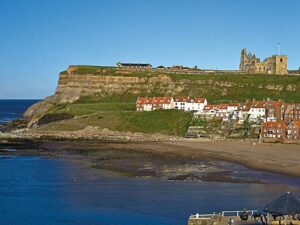 Filey, North Yorkshire
Formerly a fishing village, Filey is a small seaside town with a golden sandy beach that stretches for five miles. An historic town with Viking and Norman heritage, Filey has a traditional seaside atmosphere, with amusement arcades, fish and chip shops, and ice cream parlours but also boasts several art galleries and visitor attractions that tell the tall tales of Filey's darker past as a port used by smugglers.  The beach itself is close to the town centre and flanked by colourful beach huts and bathing machines.  Don't miss the Filey Dams Nature Reserve and Filey Bird Garden and Animal Park.
Tempted to take a trip to the beach; with each one less than three hours drive away from Manchester, which one will you visit first?
Villafont is currently developing at locations across Cheshire and Yorkshire.  For further information, please click here.
Be the first to learn about new developments or exciting incentives